Serving of the success of last weeks Coffee House Session with Ben Goddard, we have been blessed with a second helping, Kerri Watt.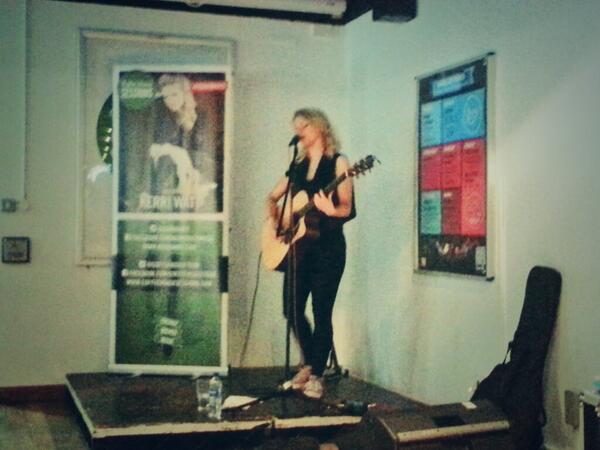 We're 'Coffee' Addicts Now
Written by Matthew Bryan
The Coffee House Sessions is a set of two tours curated by Radio 1's very own Huw Stephens. Consisting of forty universities, an artist will visit two universities a day for ten days! UWE is fortunate enough to be on the path of one of these tours, bringing us some incredible talent to the Escape bar on Frenchay Campus.
Kerri Watt stole the stage in this week's round of coffee, with her pure and powerful range of vocals she opened her set with a very original "soulful, country, pop" track of her own named 'Let it Flow'.  Dropping down the pace into a beautiful blues song named 'Little Sally' she had won the crowd. Without knowing it, people started to find their feet tapping along.  After she had our ears, and our feet, she continued to win our hearts. With a cover of Bob Dylan's 'Don't Think Twice', I think she may have achieved that.
Dedicating the next selection of songs in her set to her travels through California, she began with 'Queen of California' by John Mayer, one of her greatest influences. Continuing with her California themed songs she went into an original song her hers 'California Heart'. With this song you could really see she was getting into her stride, her passion for music really shone through her. She finished the set with 'Maybe' another original song of hers. This smooth and captivating track is due to release early next year and I'm sure it'll be stuck on repeat, there's no 'maybe' about it.
After her short but successful set, I was left wanting more. Fortunately enough I had an opportunity to talk to her afterwards about her life as a musician. After asking Kerri if this was her first time in Bristol I quickly learned that she had a whole plethora of talent, not only as a musician but as an actress also. She told how she had "toured here in a musical a couple years ago" and she continued to say that Bristol was, "one of my favourite cities to ever tour. I like it here." Asking what exactly about the city she liked, her reply was almost instant, "the burrito shop opposite the hippodrome." She also added "I think it's just a nice atmosphere. The people are nice."
But acting is not Kerri's only other talent, when discussing what she does outside of her musical life I discovered another skillset. Pumpkin Carving. A convenient skillset seeing as we've just hit the month of October, "I'll spend the rest of the month carving pumpkins for sure. I love pumpkin carving," she told me.
When she's not carving pumpkins she's stargazing, "astronomy is my hobby", she expressed. But that's not the only stargazing she does. "My weekend off from the tour I drove all the way from London back to Glasgow just so that I can go to a Rod Stewart gig," Kerri explained that music was "not really work for me, it's my passion" and so she also spends her spare time listening to music and going to gigs.
Recently Kerri travelled to America for 3 months, playing in many places including iconic venues such as 'Whisky a Go Go' on the sunset strip in Hollywood. I asked how she managed to do such a feat. She told me "I just emailed people, rang people and then when I turned up there I just went into venues with my guitar and said, 'Hi, okay? Can I play here?'" Kerri went on to say that if there is anyone out there as an aspiring up and coming artist, "Just put yourself out there, don't be afraid. They can only say no, then you go 'huh, okay. I'll go carve a pumpkin then.'"