Beating the cockerel to the call, Garry Richardson is better than them all. When sport is summoned and 6:25 strikes, Garry has the mic. "John, Sarah, good morning to you," he says on Today with his mellifluous, west-country voice. At the end of the week big-name guests on his Sunday Sportsweek show speak, where Garry clears rumour away and fills the air with fact and fascination. Overall, the morning marvel stands tall.
This is the man who interviewed Bill Clinton in the Royal Box during a rain delay at Wimbledon. How did he get that interview? He asked. The word impossible is scrubbed out of Garry's dictionary. As is defeat. "The thing that you should do is never ever give up," explains Garry. "I've made a career out of asking.
"Often people will say that you can't get that story or you can't get that interview. The key thing is to actually ask because if you don't ask you don't get. There have been lots of times where I've managed to interview lots of famous people (Ben Stiller, Tony Blair) just because I have asked, notably Bill Clinton a few years ago at Wimbledon. I got to speak to him and a lot of people said "there's no chance" but I simply asked and the answer was yes, and 10 minutes later I was sitting in the Royal Box with the President for fifteen minutes, which was brilliant."
Beginning his career as an office boy at BBC Radio Oxford, Garry is now the most successful sports broadcaster that has ever graced this earth. "I am the longest serving member on the [Today] programme. I started way back in 1981 with the legendary presenters Brian Redhead and John Timpson. It's a programme that gets very high-profile guests. There are some mornings when you can be sitting in the studio next to the Prime Minister which can be a little daunting. It's been really good fun.
"One of the problems of course is that the time of day we are on, from six until nine in the morning, is that sports people don't often get up too early. So you don't always hear footballers on there but we do extremely well. We get some good guests and it is a great programme to work on."
Another issue is the weather. Garry lives halfway down a hill near Guildford and should ever it snow, there goes Garry's hopes of making it into the Today studio. No way out? No problem. Garry just broadcasts from underneath his stairs at home, sitting at his seat with an ISDN on a table over his feet. The inevitable broadcast persiflage proceeds. "You're like Harry Potter!" John Humphreys might say. How refreshing. In an era where sports news is so often filled with austerity, Garry makes it focussed and fun. A Mike Ingham on the phone here, a Geoffrey Boycott on the line there, words of wisdom everywhere.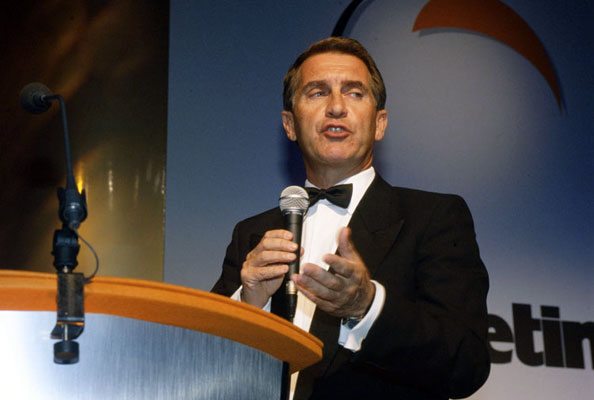 At 25 minutes past the hour between six and nine every morning on Today, sports sparks fly. Why? Because spectacular is always in Garry's vernacular. During Ice Age last January, Garry was finishing his final Today broadcast of the morning and he ended with, "I'm off to build a snow man."
He also has the gift of asking a question a third time to reel in answers, a trait treasured by Sportsweek listeners. "We get some great guests [on BBC Radio Five Live's Sportsweek] and probably the most satisfying thing is that we try to set the agenda with the news stories that we do. So often you will hear a guest on Sportsweek come out with some very good news-making quotes, and when you buy your newspaper on a Monday morning – the tabloid newspapers; The Mail, The Mirror, The Sun, the Express – you will see those stories making page leads, and likewise in the broadsheets as well – The Telegraph, The Times, The Guardian. So that's probably the most satisfying thing doing Sportsweek. The programme does make a real impact."
Lasting for one hour with a top sports writer by his side, Garry gathers news stories no-body else could upside. He coaxed the now-former England Rugby League coach, Tony Smith, in to announcing his resignation on-air. Not to mention being the first ever interviewer to unfurl the sentiment behind the licentious bark of Mike Tyson. The former boxer revealed that he's now a "humanitarian", that he's found pastures new far away from his erstwhile domicile of sin.
With thick skin and a will to go out on a limb, Garry has the voice and vein for radio. Having recently been privileged enough to visit Sportsweek – on the morning when South Africa's security measures for the World Cup were cast in doubt after the shooting at the Togo team bus – it was revealed to me that Garry spent six hours phoning Danny Jordaan, the man in charge of running the best show on Earth in June, for an interview during the week. Only a certain type of individual can afford that level of patience, and phone bill, to hang on for that long. Garry can.
In a season where Red Devils dribble but debt drools; money, gallingly, is the big story. Will Manchester United have to sell Wayne Rooney? What is the reds' deficit? And United's selling price? David Gill answered all. Even when Sportsweek was extinguished by the tennis coverage of the fire flowing from Roger Federer on that morning in Melbourne, Garry still squeezed his twenty-minute exclusive interview with United's Chief Executive before the Murray meltdown moved in, during Weekend Breakfast at six. Enter Garry. Exit gossip.
With a contacts book so full, the top of number five is live. In guise he has won the best sports programme prize on three consecutive occasions at the Sports Journalists' Association awards. Beating the cockerel to the call, Garry Richardson is better than them all.