A phone interview with Gabriella Jones, talking about university and her new EP. By Matthew Bryan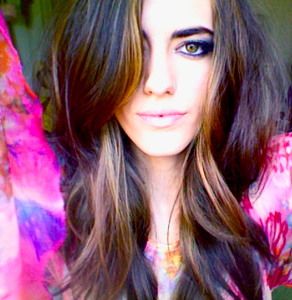 Building on the success of her last single 'Hey You', the incredible Gabriella Jones is set to release a follow up single 'Losing My Baby', which is to be featured on her new EP.
 Teaming up with John McLaughlin, who according to Gabriella, "has such a great understanding of the industry" she describes the EP as an offering of a whole range of "blues, pop, and rock".
'Losing My Baby', the flagship single set to be released on the 28th October, is an extraordinarily catchy pop-rock track. With its unique structure of varied tempos and play styles, the song takes us on a rocky road, highlighting the core meaning of the song.
"I think a lot of people write about falling in love or failing out of love, but not many people document the awkward bit where one of you might be happy and one of you might not." She told me.
'Let it Burn' is an amazingly powerful song displaying Gabriella's incredible vocal talent. With a bluesy, soft rock feel, you will find yourself mesmerised by her soft yet coarse vocals, which blend perfectly into the track.
Gabriella's talent is a candle that we most certainly have to let burn. Having supported acts such as Bon Jovi, Bryan Adams, Roxy Music, Rihanna and most recently Beyoncé, she hopes to have a tour of her own.
"Yeah I'm hoping to get a tour together with my new band and hopefully do some more festivals cause they're my favourite thing to do," she said.
The next song, 'Taking it Literally', literally takes it up a gear. With a great set of delicious dynamics this song definitely has a more aggressive feel to it, with indications of her childhood influences Led Zeppelin and Black Sabbath poking through.
 As an English student at the University of Birmingham, Gabriella somehow finds the balance between the life of a musician and that of a student. Speaking of the most recent event where she supported Beyoncé in Birmingham's own LG Arena she told me:
"I did the gig in the middle of five exams. So I was doing six radio and TV interviews then going home and revising, then practising, then doing a gig, then coming back again, then doing my exams again. It was a bit of a whirlwind."
She also told how her studies have aided her music. "English definitely helped me convey how I'm feeling," she said.
This inspiration certainly shows through in the final song of the EP, 'Blue Hills & Purple Butterflies', which is just simply beautiful. This song is a true testament to the power, range and diversity of Gabriella's vocals. With the combination of an acoustic guitar and piano this soft melodic song will be heard through your heart, not just your ears.
Her advice to any aspiring musicians is something that she said John McLaughlin taught her; "He taught me to stick to my guns." She continued with the advice by saying: "You can't be a snob about it [music], just love what you love and write about what you know."
Hear her music here: https://soundcloud.com/gabriellajonesmusic
[youtube]http://www.youtube.com/watch?v=IBxSk0k7KoY[/youtube]